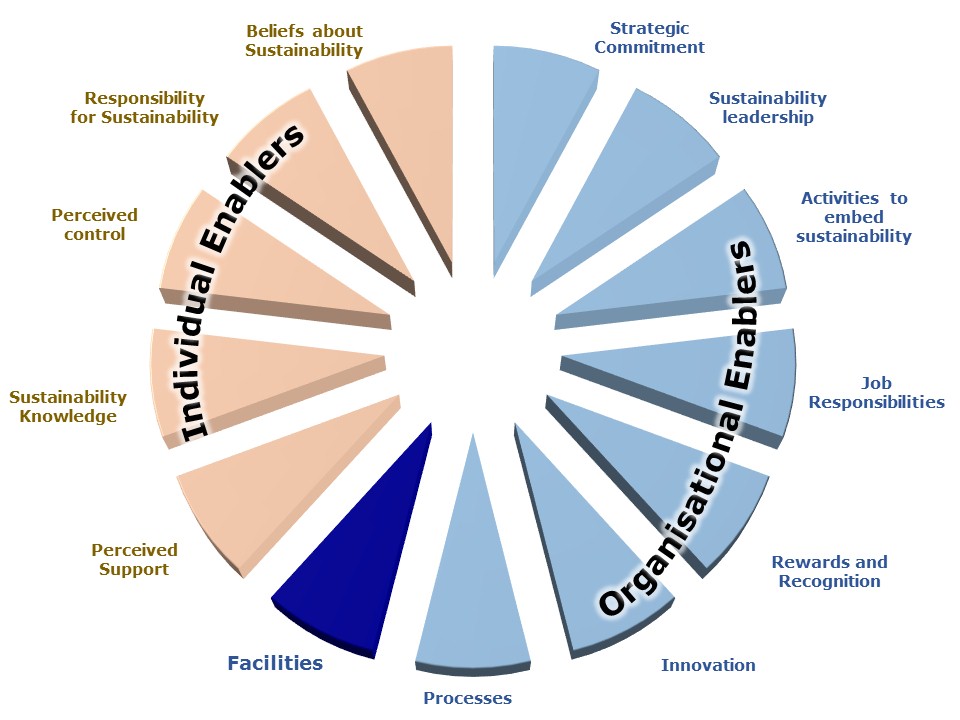 Our physical surroundings and the availability of resources and infrastructure can make a big difference to the likelihood that we will choose sustainable behaviours. The key is making it easy and convenient to do the right thing and harder to do the wrong thing.
Research on this enabler…
Strategies for improving this enabler…

Conduct in-depth analyses of the reasons why some people choose to adopt sustainability-related behaviours and others don't. Sometimes it is simply placement and signage.
Ensure each behaviour is treated specifically and separately. What action do we wan't people to change?
Review default settings. Are your printers set to default to double-sided? What is your thermostat set to? Usually, people will just stick with the status quo.
Research best practice for such things as signage, bin placement and other physical aspects of the environment. The literature consistently shows really large effects from simple changes.
Best Practice Examples…
Fujitsu's Melbourne office is a perfect example of the benefits of a commitment to green innovation. Since moving into their 6-star Green Star rated building, Fujitsu have seen a 42% drop in absenteeism and up to 65% reduction in carbon emissions and energy costs
By taking a fresh approach to the way it uses office space, Cisco greatly reduced energy use and waste in one building specifically chosen to evaluate the benefits
Since the University of Western Sydney implemented a Green Office program 5 years ago, their waste to landfill has been halved – saving them over $1.1 million per annum.
How Awake can help…
Awake's Wake-Up Call ezine has touched on facilities a number of times. The July 2012 edition looked at how psychology contributes to green design, while July 2013 featured a review of research into greening your office
The Sustainability Culture Indicator tells you how your people rate the facilities compared to other organisations, and can be customised to ask for written comments about specific issues and what can be done better.
Awake can facilitate a workshop to get ideas and input from employees, to inform anything from a green office program through to a whole organisation sustainability framework.
Other useful resources…